Microgrid solutions reduce energy costs by utilizing renewables, storing energy for later use, and operating independently or in conjunction with the power grid. Read the case study below to see how Mesa used many generators to create a microgrid and reduced unplanned downtime for the customer.
A prominent Permian oil and natural gas producer focused on the acquisition and development of unconventional fuel reserves in the Permian Basin. As an established Mesa Solutions customer, they were already familiar with Mesa's superior power rental service. A less-than-satisfactory turbine rental arrangement prompted this customer to initiate a cutting-edge microgrid upgrade with Mesa. 
A remote location, high peak demand, unique fuel gas characteristics, and a need to reduce unplanned downtime.
This customer's site is the central point of generation for a distributed network of 36 wells, two saltwater disposal systems, and 14 oil batteries – accounting for roughly 10MW of total power demand. With no connection available to the primary utility grid, the customer needed a power solution that could operate using only a local supply of low-pressure field gas. The high cost of downtime paired with the distance of the site from services called for a solution that was adaptable, low maintenance, and would ensure 100% uptime. 
Mesa generators incrementally replaced the existing gas turbines while keeping the site active and managing systemwide demand to ensure power continuity.
We employed an in-house power systems solution that allowed for the paralleling of 42 Mesa 22L generators to meet the site's high level of power demand. The microgrid was completed with seven transformers and seven custom-built mobile switchgear trailers. Using only the field gas available on site, the microgrid could produce over 14.5MW of power. To utilize the low-pressure field gas, Mesa generators were engineered to operate at full load on gas pressure as low as 6 psi (far lower than what was demanded at this site). To ensure a robust system with minimal downtime, Mesa's own remote monitoring system was utilized. Every aspect of the customer's microgrid is monitored and controlled 24/7/365 by Mesa's dedicated team of engineers.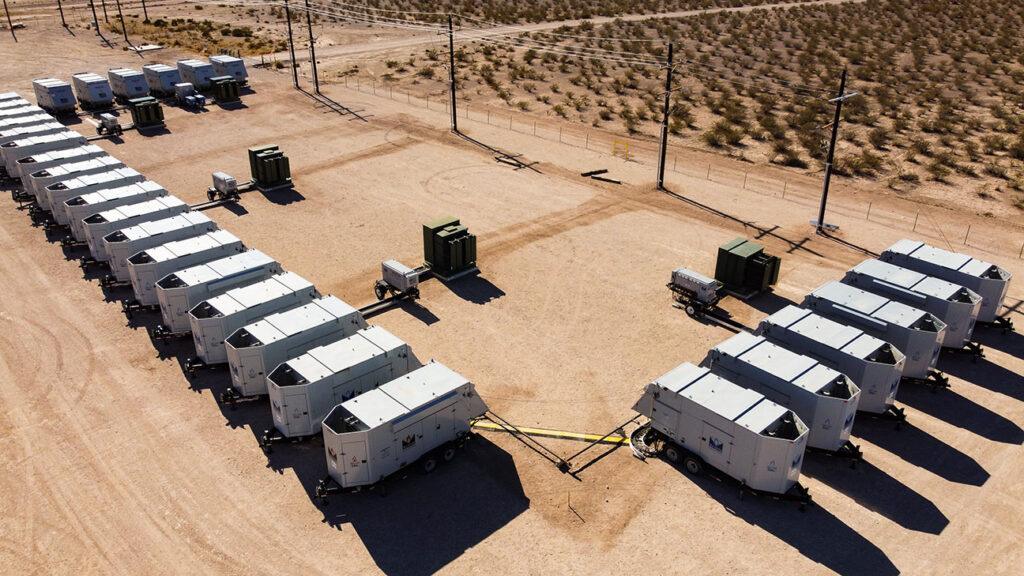 (12) 22L Mesa NG Gensets
(2) CB6 Trailers
(2) 480V Transformers
12 Mesa generators in MP/FE mode targeting 250kW and 13kVAR each (0.99 power factor).
Providing 3MW of total base load.
Existing turbines remained responsive to changes in demand, eliminating unnecessary downtime. 
(18) 22L Mesa NG Gensets
(3) CB6 Trailers
(3) 480V Transformers
18 additional Mesa generators were added and the final gas turbine was decommissioned.
Mesa generators were remotely placed in island mode, sharing kW and kVAR equally across the microgrid.
(12) 22L Mesa NG Gensets
(2) CB6 Trailers
(2) 480V Transformers
An additional 4.2MW of dependable capacity was requested.
A recently deployed in-house power systems solution allowed for a greater number of Mesa generators to be placed on a single microgrid.
With the capacity expansion phase completed, the flexibility that Mesa's solution provides means that the site's dynamic power requirements will always be covered.
By switching to Mesa, the customer was able to remove high-pressure external fuel gas compressors, which were previously required for the operation of gas turbines. The removal of this equipment meant fewer pieces of machinery on site, which ultimately reduced costs and removed another point of failure from an already complex system.
Mesa's microgrid solution operates at half the cost of the previous system, saving this customer $1.1 million per year. The advanced control capabilities employed at this site by Mesa place it among one of the most advanced microgrid applications in the world. With this expansion of coordinated mobile power generation, a new precedent for flexibility and scalability has been set.