As a company that provides power solutions, we have a strong commitment to maintaining a safe working environment for our employees. We understand that safety is paramount not only to our workforce but also to our clients and the communities we serve. Because we have a wide variety of roles within the company, certain employees require different safety training and safety equipment. In this article, we'll be taking a closer look at the safety measures we utilize to keep people safe.
Our employees undergo extensive training to ensure they have the necessary knowledge and skills to keep themselves and others safe. For example, our gen techs receive training on H2S and PEC Safe land before moving out to the field to conduct their work. They also undergo the Smith System Drivers course before operating a vehicle and attend any required customer safety orientations before heading to the site. Additionally, they learn the proper way to utilize their non-contact voltage pens, Lock-out/Tag-out (LOTO) processes, when and how to use a Stop Work Authority, and the importance of staying safe no matter what they are doing.
Manufacturing and Maintenance
In manufacturing and maintenance, daily morning job safety analyses (JSAs) are conducted to discuss what is going to be done for the day. Sometimes other topics will also be discussed to bring more value to the meetings such as financial wellness and mental health. Individuals receive first aid/CPR training and forklift training, and there's a professional development time during the week when that information is covered.
Personal Protective Equipment (PPE)
At Mesa, we understand that personal protective equipment (PPE) is crucial in keeping our workers safe. Besides gloves, we also provide safety glasses, hard hats, FR clothing, 4-gas monitors, appropriate welding PPE, and other PPE, depending on the job task and the associated hazards.
Safety glasses are essential for eye protection and are required in many situations, including when working with chemicals, grinding, welding, or using power tools. 
Hard hats are required in areas where there is a risk of head injury from falling objects or electrical hazards. 
Steel-toe boots protect workers' feet from injuries due to falling objects or accidental contact with equipment.
FR (flame-resistant) clothing is worn by employees working in environments with a potential for flash fire or electric arc flash. It is made of flame-resistant materials and is designed to self-extinguish after exposure to a flame source. 
4-gas monitors are worn in areas where there is a risk of exposure to hazardous gases, and they alert the user if the gas concentration exceeds a safe level.
Welders are required to wear appropriate PPE, such as welding helmets, gloves, and clothing to protect them from UV radiation, hot sparks, and metal splatters. Welding helmets protect the eyes and face from UV radiation and flying debris, while gloves protect the hands from heat and sparks.
We continually check the comfort and appropriateness of all PPE we provide, including gloves, safety glasses, hard hats, FR clothing, 4-gas monitors, and welding PPE. Comfort is important because uncomfortable PPE can be distracting and can even lead to accidents. Appropriate PPE is also crucial because using the wrong type of PPE can expose workers to unnecessary risks.  
See a crew showing off their gloves here!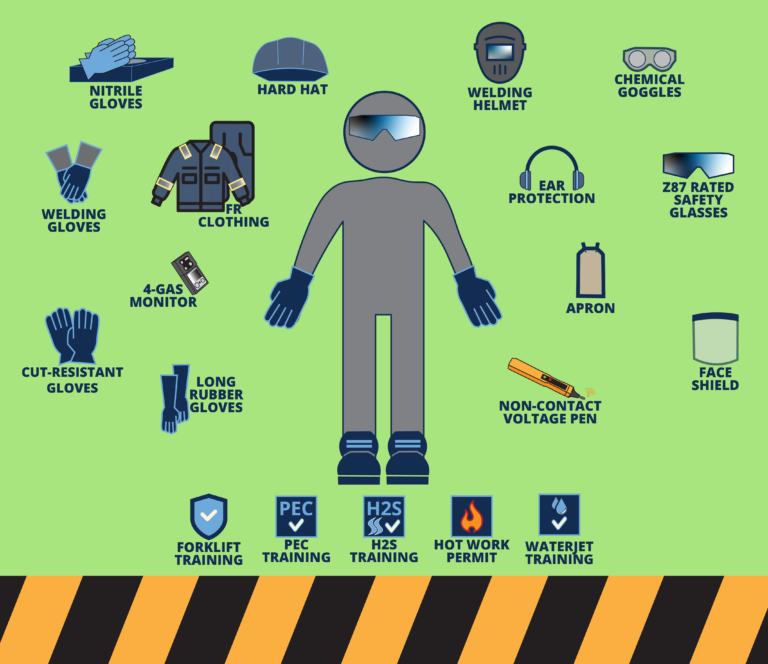 Our safety program is bottom-up driven, which means that we understand the importance of employee participation in the program. Their expertise and suggestions continually Mesa a safer place to work. Our safety committees at each location are made up of employees who find better and safer ways to do things. We have checks in place to keep our safety measures heading in the right direction, and safety forms are built out with an online software so employees can communicate and report incidents and safety concerns immediately.
We recognize those employees who go above and beyond when it comes to safety and creating a safety culture. We have a safety employee of the quarter and of the year where everyone in the company can nominate the people who set the standard when it comes to safety. This encourages employees to take safety seriously and rewards those who make safety a priority.
Mesa Solutions is committed to maintaining a safe working environment for our employees. We understand the importance of employee participation in our safety program, and we continually strive to improve our safety measures. From employee training to personal protective equipment to employee recognition, we believe that taking the safest steps possible is the only way to conduct our work.