The design of Mesa's generators keeps customers' needs at the forefront. One of Mesa's promises is to maintain a greater than 95% available uptime. To help us keep this promise, our generators regularly communicate with Mesa's 24-hour Operations center via the onboard proprietary telemetry system. From this, local generator technicians can respond in a timely manner to address any issues that arise to keep your generator running or get it up and running again as quickly as possible.  
Each Mesa generator comes equipped with a proprietary telemetry system installed and ready to work for you. Via satellite or cell towers, the system sends regular messages about the generator's health, containing over 20 critical parameters. This information is stored in Mesa's database and processed for access.  
GATHERS ELECTRICAL AND ENGINE DATA FROM THE GENERATOR
Each generator telemetry computer is sampling large volumes of engine and electrical data and processing it onboard.  Through millions of hours of runtime experience, this proprietary system has evolved to focus only on key, relevant data, and get rid of the noise.  When a generator is set up at your site, field technicians verify that the telemetry is connected to the genset and communicating with the central database properly. 
SENDS DATA BACK TO MESA'S DATABASE VIA SATELLITE OR CELL AND IS STORED THERE
The proprietary telemetry software sends messages to the database every fifteen minutes. These messages contain valuable information about the status of the generator including health measurements like oil pressure, natural gas pressure, coolant temperature, battery voltage, and engine hours (like the 'odometer' for the engine) to name just a few. These messages are stored in the database and the information contained in them is decoded and displayed to be understood by whomever is looking at the data.
ALERTS THE USER VIA TEXT MESSAGE OR EMAIL WHEN THE GENERATOR HAS A CONDITION THAT COULD IMPACT YOUR OPERATIONS
Alarm messages are sent immediately on condition. Generator technicians in the field are alerted via text message or email when certain alerts/warnings are sent from the generator. Certain parameters have different thresholds for when a generator sends an alert, and parameters that could shut the generator down are monitored very closely. Customers can get customized alerts sent to their phone or email as well. This consistent monitoring by our field technicians sets us apart from other companies. The advance warning of potential problems leads to greater available uptime for our customers. By providing a solution before there is a problem, you have a generator that stays running. 
NOTIFIES WHEN THE UNIT SHUTS DOWN OR WHEN FUEL SWITCHING HAPPENS. YOU CAN ALWAYS KNOW WHAT YOUR GENERATOR IS DOING WITHOUT HAVING TO BE ONSITE.
In addition to sending alerts when there are potential problems, the generator will also send messages when the fuel source changes or when the unit stops running.  These alerts can be customized to the individual to receive only what they want to receive.  
How does the Tactical Operations Center (TOC) use the data?
MONITORS GENERATOR AND SITE HEALTH 24/7
Mesa has a staff of real people who monitor the generator data 24 hours a day. The TOC evaluates shutdowns and warnings and determines the severity of the problem. If they do not know the answer, they reach out to the field or the specific customer to resolve the issue before it becomes a bigger problem.
DEPLOYS HELP TO THE SITE WHEN NECESSARY
The TOC will triage each situation to determine if a Mesa generator technician is needed at the site or if it the customer needs to be called. Each area of responsibility has 24-hour on-call technicians to reach a site in a minimal amount of time to make sure the customer's needs are met.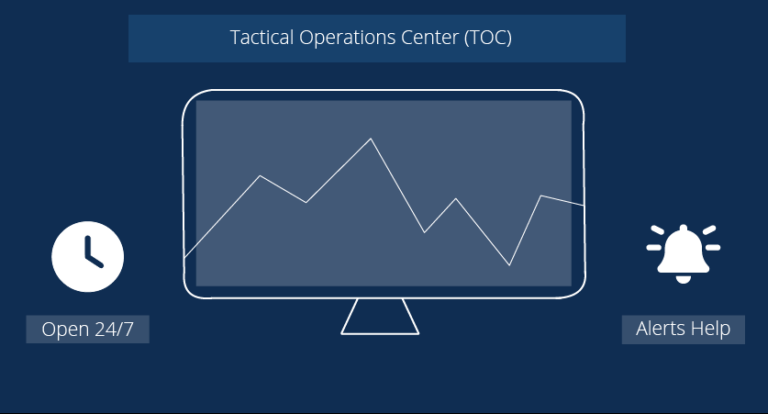 How can customers view generator information?
Telemetry information is not just for real-time diagnoses. The telemetry message information can also be viewed within the Operations Data Center (ODC). The ODC displays message information in several ways. Customers can view the current status of their generators, can see the different parameters represented in graph form, and can also view historical information about their sites or generators. This information is key to helping diagnose problems and keeping track of generator performance. The ODC also provides customer reports, which are a summary of data over a period of time. Customers often use this information for required emissions reporting. 
Mesa understands that if your power goes down, you lose money. We do everything in our power to help you maintain a greater than 95% available uptime. Our proprietary telemetry system is key to making this happen. Whether it's alerts from the generator targeting a potential issue or our 24-hour Operations Center monitoring your sites and generators by way of these alerts, Mesa strives to give you the best service possible while keeping your power up.